We invite members to become involved in our projects related to the AAUW mission. AAUW empowers women to carry out recommended programs and projects under its imprimatur. If you want to do something to help women and girls, you will find something of interest on these webpages.
The Northeast Branch current projects include:
Giving monetary awards to help area middle school girls attend AAUW Ohio's BeWise Science and Math Camp at Denison University in June of every year.
Collecting funds to help support AAUW fellowships and grants.
Operating the Madison Safety Town.
Collecting useful items to donate to the New Directions for Living Program at the Christmas holiday. The photo below shows the items we donated this year along with a description of the agency.  A twin-bed comforter and pillow sham that were donated  are not pictured.
GREAT JOB NORTHEAST AAUW MEMBERS!
Above are our donations that Sally and Mary Frances delivered to New Directions for Living, a program that provides the only transitional housing services in Lake County to help homeless individuals and families to support themselves without government assistance upon graduating from its program. This is achieved through the following services and program requirements:
• Affordable housing including full paid utilities
• Assistance in achieving financial and personal goals
• Weekly progress review meetings with NDFL case managers
• Assistance in securing and maintaining employment
• Assistance in obtaining appropriate education and skill training
• Mentoring program through NDFL volunteer mothers and fathers.
For more information about supporting the program, go to: newdirectionsforliving.org
Last year's donations below.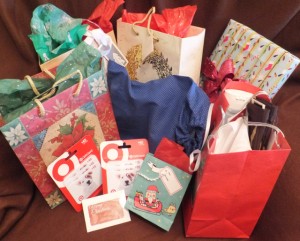 Directions for Living focuses on helping clients develop their individual potential and achieve their hopes and dreams for a better life.  The program offers a dual approach to helping homeless or near homeless individuals and families to help themselves.  They offer a self-sufficiency program as well as affordable transitional housing for up to 24 months.
During this time they work closely with their clients to help them develop goals and identify specific action plans aimed at improving the overall quality of their lives.  Clients are held accountable for achieving the goals they set, while New Directions encourages them to stay focused, assist in overcoming obstacles, acknowledge their efforts and recognize their achievements toward established objectives.  This dual approach of housing and supportive programming provides the needed opportunity to focus on re-orienting their lives, not just getting by day to day.
Clients must be at least 18 years of age and couples must be legally married to participate in the program.  Requirements are clearly communicated to clients including several required classes and workshops as well as a struck prohibition of drugs and alcohol.  New Directions for Living is also a member of the Painesville Multi-Housing Crime Free Program. For more information, go to:  http://www.chsslc.org/what-we-do/member-showcase/new-directions-for-living.