THANKS FOR CHECKING US OUT!
We are a local branch of the American Association of University Women (AAUW), an organization that has been working since 1881 to empower women and girls through advocacy, education, philanthropy and research. We enjoy thought-provoking, informative programs with like-minded women from September through May.  We invite you to learn more about the national AAUW at aauw.org ad well as AAUW Ohio at aauw-oh.aauw.net.  You are welcome to visit our branch as a guest before considering membership.
__________________________________________________________________________________________
UPCOMING EVENTS

On Tuesday, March 1, at 6 p.m. we will once again meet at the Lakeland Community College Art Gallery in Building D to view the this year's women's art show led by Mary Urbas, gallery director. A celebration of Women's History Month, the exhibit includes works by women artists from Ohio and across the country in a variety of media including oil, acrylic, watercolor, gouache, drawing, collage, textiles, enamels and digital photography. When the online tour is posted, we will send members the link so those unable to attend in person can enjoy the works of these talented women. Members will receive further information about accessing parking.
FEBRUARY BRANCH MEETING:

 We enjoyed a discussion led by Mary Frances Burns on Saturday, Feb. 5, at noon about the book Rust by Eliese Goldbeck, a local author.  Short preview:  "One woman's story of working in the backbreaking steel industry to rebuild her life–but what she uncovers in the mill is much more than molten metal and grueling working conditions.  Under the mill's orange flame she finds hope for the unity of America."
SUMMARY OF JAN RESSEGER's "UPDATE ON IMPORTANT EDUCATIONAL ISSUES" AT NOV. 9 ZOOM MEETING
"In so many ways these are discouraging times for those of us who worry about preserving and improving our public schools here in Ohio," Jan noted sadly. She referred members to Derek Black's book, Schoolhouse Burning. A professor of constitutional law, Black writes about the safeguards written into state constitutions to protect schools from political manipulations and ensure education decisions were made in service of the common good. He noted, "Modern-day incursions into public education are so unusual that our framers did not imagine them."  Jan then proceeded to outline what has happened in the new state budget in regard to privatization and the transfer of funds to vouchers and charter schools.  Jan provided us with a copy of her speech, which will be sent to all members. This is of current interest due to the fact that 100 school districts have recently sued the state of Ohio over vouchers.
——————————————————————————————————————–
RECENT NORTHEAST BRANCH PROGRAMS
Tuesday, Oct. 5, 7 p.m.: Jackie Zielke, who coordinates the Lake County SOAP project, which works to prevent child sex trafficking, told us about the project and how to get involved.
Tuesday, Sept. 7, 7 p.m.:  Beth Hutton of the Lake County League of Women Voters gave a Powerpoint on the League's extensive advocacy for FAIR DISTRICTS by replacing the gerrymandered districts we have lived with in Ohio for 10 years with fair ones and how best to create them.
June 1st Board and Planning Meeting:

  W

e had a picnic at the Concord Park pavilion and made program plans for the upcoming year.
May 10 General Membership Meeting:

  We were unable to meet at the library due to COVID so we had a

 Zoom meeting at 7 p.m.

 so

 members could offer suggestions for upcoming programs.
March 15 Virtual Tour of the Lakeland Women's Art Show:–WOMAN XIV:  Gallery Director Mary Urbas walked us through the show via ZOOM, which you can still view at this link.  It is always a celebration of Women's History Month as well.                                              

——————————————————————————————————
The 

Heights Coalition for Public Education held a community discussion of School House Burning by Derek Black on March 10, March 24 and April 7.  See the Coalition's mission here.
——————————————————————————————-
ADVOCATE FOR PUBLIC EDUCATION

:  
A recent Jan Resseger post outlines a resurgent push for publicly paid vouchers. Read it on her blog at: https://janresseger.wordpress.com/2021/02/17/28662. 
——————————————————————————————–
 A REVIEW OF PAST PROGRAMS
Zoom Meeting Last Nov. 9 featuring Jan Resseger                         on "Current Threats to Public Education"
Education blogger Jan Resseger has spoken to our branch a number of times in defense of public education, which has been under threat in Ohio for decades due to our legislature's focus on vouchers and charter schools.  Jan wrote eloquently about how the budgets of public schools have been sapped in a recent blog.
Before retiring and starting her blog, Jan worked for the United Church of Christ's national headquarters in Cleveland doing advocacy and programming to support public education justice and working to improve the public schools that serve 50 million of our children.  She advocated for reduced standardized testing, greater attention to the vast opportunity gaps that exist in our society, schools that welcome all children, and the public role of public education. Jan chaired the National Council of Churches Committee on Public Education for a dozen of those years. 
She has been guided by Senator Paul Wellstone's quotation: "That all citizens will be given an equal start through a sound education is one of the most basic, promised rights of our democracy. Our chronic refusal as a nation to guarantee that right for all children…. is rooted in a kind of moral blindness, or at least a failure of moral imagination…. It is a failure which threatens our future as a nation of citizens called to a common purpose… tied to one another by a common bond."
Painesville Schools Superintendent Josh Englehart
on "Challenges Covid-19 Poses to Public Schools"
We thank Painesville City Schools Superintendent Josh Englehart for sharing with our branch members very timely information about how the system is dealing with operating its schools during the current pandemic during our Sept. 1 Zoom meeting. Read a full report of the program here.
OCTOBER 1, 2019, MEETING:  Jan Resseger, "What if Ohio Helped Instead of Punishing Its Poorest Students"
Jan has shared her presentation with us for those who were unable to attend or would like to review her program as well as a Cleveland.com publication showing how closely  Ohio school report card grades trend with district income.  
---
ANNUAL TOUR OF WOMEN XII, THE WOMEN'S ART SHOW AT LAKELAND COMMUNITY COLLEGE, ON MARCH 5 WAS FABULOUS AS USUAL!
If you missed this year's Women's Art Show at Lakeland and Mary's commentary, view an excellent video she sent us of the event on our branch Facebook page.
Gallery and Show Curator Mary Urbas reprised her wonderful tours of this always exceptional display of women's art.  She shared why she chose many of the works and why she placed them as she did along with background about some of the artists.  After our dinner in the cafeteria, she shared her overall insights. We were able to see the Gallery's recent renovation, which
has significantly improved the facility.
FEB. 2  LUNCHEON AND BOOK REVIEW AT THE STEELE MANSION 
At our annual book review meeting at the Steele Mansion on Feb. 2, former Morley Library director Mary Frances Burns led an in-depth  discussion of "In Order to Live" by Yeonmi Park.  We enjoyed a delicious luncheon of chicken cacciatore, salad, and dessert.  and always enjoy this special environment.
Available in paperback and Kindle editions on Amazon, most members described the book as eye-opening and somewhat difficult to read due to the author's travails.  But most said they were glad to learn information about North Korea that simply is not conveyed in the U.S. Yeonmi and her co-author covered the difficulties of life in North Korea as the central state became increasingly unable to provide for the population in the Nineties due to crop failures and subsequent famine, Yeonmi's and her mother's decision to escape to China, where they were trafficked, and their eventual decision to try and get to South Korea. Yeonmi eventually made it to the United States and lives here with her husband and baby son. Anyone wishing to know more about North Korea should read this boo
Yeonmi writes, "I wasn't dreaming of freedom when I escaped from North Korea. I didn't even know what it meant to be free. All I knew was that if my family stayed behind, we would probably die—from starvation, from disease, from the inhuman conditions of a prison labor camp. The hunger had become unbearable; I was willing to risk my life for the promise of a bowl of rice."
HOLIDAY GET-TOGETHER

                                                           
Members enjoyed the "Christmas Vespers Concert" at the Helen Rockwell Morley Memorial Music Building at Lake Erie College on Dec. 2 and dinner at Hellriegel's Inn.     Thanks to members who  brought a gift for New Directions for Living, our annual holiday project.

  
MEMBERS ENJOY NOVEMBER 13 PROGRAM ON REIKI

       
 

At our Nov. 13 meeting held at the Stadium Grill, Tina DiCillo, a Reiki master and yoga teacher, explained that  Reiki is a Japanese word—"rei" refers to the higher intelligence that guides us and creation while "ki"refers to energy. Tina explained that this energy cannot be guided by the mind.  The practitioner has to surrender to the concept of "thy will be done."  The practitioner is there to make a connection so energy can flow.  Many physical problems are caused by our thoughts and worries. Energy can stagnate. Tina said that Reiki can help restore proper energy flow.  She described it as a "non-invasive completely benign technique."
Tina brought a massage table and invited members to have an analysis using a pendulum.  When passed over the body, if it changes the way it whirls–goes in a different direction or gets wobbly, that may indicate a lower level of energy.  Practitioners can also identify problem areas intuitively.  Tina said that members can also learn to do Reiki on themselves.  She gives classes periodically.  After completing a Level 1 course, students can give a Reiki treatment to others. Level 2 goes into more depth about some of the mystical aspects of giving a treatment.  Level 3 is for those who want to learn Reiki.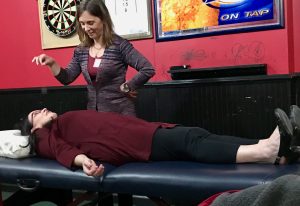 Tina demonstrates a pendulum analysis using member Mary Frances Burns.
READ THE SUMMARY: TWO AREA LONG-TIME EDUCATORS ADVOCATE              FOR TRAUMA-INFORMED EDUCATION AT OUR OCT. 2 PROGRAM
Northeast Branch and Heights-Hillcrest-Lyndhurst Branch members were fortunate to hear an explanation of trauma informed educational methods at our Oct. 2nd meeting at Applebees in Willoughby Hills from two women who have devoted their lives to helping such children learn.  Barbara Oehlberg explained the theories while Meryl Johnson gave practical examples gleaned from her 40 years of teaching.  
The fundamental theory is that traumatic experiences in children under age 2 are stored in the amygdala and referred to as "implicit memories."  Barbara stressed that because these memories are not stored in the thinking brain, they cannot be expunged through talking. She explained, "They are laid down without words and without  context. The child knows something is wrong but doesn't know why. Their efforts to release the stress or find relief, are often interpreted as discipline problems."  Barbara said that such children are experiencing stress and anxiety rather than anger and need "soothing touches and quiet words."
Read the full article here.
OHIO AND REPRODUCTIVE CHOICE:  Are you aware of the extent to which Ohio legislators  have gone to interfere with a woman's right to make her own decisions about reproduction? All women should read and share  this summary prepared by NARAL Pro-Choice Ohio.
For more information about AAUW of Ohio go to: www.aauwoh.org                                                         For more information about national AAUW go to:  www.aauw.org