THANKS FOR CHECKING US OUT!
We are a local branch of the national AAUW which has been working to empower women and girls through advocacy, education, philanthropy and research since 1881. We enjoy thought-provoking, informative programs with like-minded women from September through May.  We invite you to explore what AAUW does on the pages of our website as well as on the websites of our national organization at aauw.org and our state organization at aauw-oh.aauw.net. You can download our bookmark summary of the 2018-19 schedule or programs. You are welcome to visit our branch as a guest before considering membership.
Tuesday, Nov. 13, Program:  "Aging in Place:                                            Are All Your Ducks in a Row?
Pat Covell, MA, CSA, of Covell Financial Services will share knowledge gleaned over 20 years about retirement planning, getting your papers in order, and even the importance of sharing your passwords with your heirs among other topics. Come with questions. The program and dinner will be held at Molinari's, 8900 Mentor Ave.
 Pat is adept in developing personalized risk management strategies, utilizing a broad range of life, disability and long-term care products and services. She received her bachelor's degree from Lake Erie College and a Masters from Ursuline, College, CNM from Case Western Reserve University, and completed her Clinical Pastoral Education certification at the Cleveland Clinic. Pat serves her community by participating on a number of organizational committees and is an alumna of Lake and Ashtabula County Leadership. Pat is an Insurance Consultant with LPL Financial. Masters Consulting Group serves as her office of supervisory jurisdiction (OSJ)." 
The registration is past.  But if you are interested in attending, e-mail one or both of the addresses listed at right.  The Chicken Picatta dinner costs $27.
Members are reminded to bring a holiday gift for New Directions for Living. Our gifts of toiletries, gloves, scarfs, gift cards, etc. lift the spirits of people going through a tough time in their lives.  Contributions may also be dropped off at our December meeting. 
OCTOBER 1 MEETING:  Jan Resseger, "What if Ohio Helped Instead of Punishing Its Poorest Students"
Jan has shared her presentation with us for those who were unable to attend or would like to review her program as well as a Cleveland.com publication showing how closely  Ohio school report card grades trend with district income.  
---
ANNUAL TOUR OF WOMEN XII, THE WOMEN'S ART SHOW AT LAKELAND COMMUNITY COLLEGE, ON MARCH 5 WAS FABULOUS AS USUAL!
If you missed this year's Women's Art Show at Lakeland and Mary's commentary, view an excellent video she sent us of the event on our branch Facebook page.
Gallery and Show Curator Mary Urbas reprised her wonderful tours of this always exceptional display of women's art.  She shared why she chose many of the works and why she placed them as she did along with background about some of the artists.  After our dinner in the cafeteria, she shared her overall insights. We were able to see the Gallery's recent renovation, which
has significantly improved the facility.
FEB. 2  LUNCHEON AND BOOK REVIEW AT THE STEELE MANSION 
At our annual book review meeting at the Steele Mansion on Feb. 2, former Morley Library director Mary Frances Burns led an in-depth  discussion of "In Order to Live" by Yeonmi Park.  We enjoyed a delicious luncheon of chicken cacciatore, salad, and dessert.  and always enjoy this special environment.
Available in paperback and Kindle editions on Amazon, most members described the book as eye-opening and somewhat difficult to read due to the author's travails.  But most said they were glad to learn information about North Korea that simply is not conveyed in the U.S. Yeonmi and her co-author covered the difficulties of life in North Korea as the central state became increasingly unable to provide for the population in the Nineties due to crop failures and subsequent famine, Yeonmi's and her mother's decision to escape to China, where they were trafficked, and their eventual decision to try and get to South Korea. Yeonmi eventually made it to the United States and lives here with her husband and baby son. Anyone wishing to know more about North Korea should read this boo
Yeonmi writes, "I wasn't dreaming of freedom when I escaped from North Korea. I didn't even know what it meant to be free. All I knew was that if my family stayed behind, we would probably die—from starvation, from disease, from the inhuman conditions of a prison labor camp. The hunger had become unbearable; I was willing to risk my life for the promise of a bowl of rice."
HOLIDAY GET-TOGETHER                                                            
Members enjoyed the "Christmas Vespers Concert" at the Helen Rockwell Morley Memorial Music Building at Lake Erie College on Dec. 2 and dinner at Hellriegel's Inn.     Thanks to members who  brought a gift for New Directions for Living, our annual holiday project.

  
MEMBERS ENJOY NOVEMBER 13 PROGRAM ON REIKI        
 

At our Nov. 13 meeting held at the Stadium Grill, Tina DiCillo, a Reiki master and yoga teacher, explained that  Reiki is a Japanese word—"rei" refers to the higher intelligence that guides us and creation while "ki"refers to energy. Tina explained that this energy cannot be guided by the mind.  The practitioner has to surrender to the concept of "thy will be done."  The practitioner is there to make a connection so energy can flow.  Many physical problems are caused by our thoughts and worries. Energy can stagnate. Tina said that Reiki can help restore proper energy flow.  She described it as a "non-invasive completely benign technique."
Tina brought a massage table and invited members to have an analysis using a pendulum.  When passed over the body, if it changes the way it whirls–goes in a different direction or gets wobbly, that may indicate a lower level of energy.  Practitioners can also identify problem areas intuitively.  Tina said that members can also learn to do Reiki on themselves.  She gives classes periodically.  After completing a Level 1 course, students can give a Reiki treatment to others. Level 2 goes into more depth about some of the mystical aspects of giving a treatment.  Level 3 is for those who want to learn Reiki.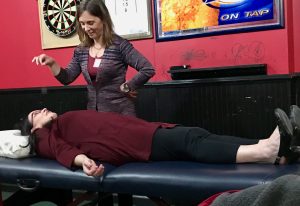 Tina demonstrates a pendulum analysis using member Mary Frances Burns.
READ THE SUMMARY: TWO AREA LONG-TIME EDUCATORS ADVOCATE              FOR TRAUMA-INFORMED EDUCATION AT OUR OCT. 2 PROGRAM
Northeast Branch and Heights-Hillcrest-Lyndhurst Branch members were fortunate to hear an explanation of trauma informed educational methods at our Oct. 2nd meeting at Applebees in Willoughby Hills from two women who have devoted their lives to helping such children learn.  Barbara Oehlberg explained the theories while Meryl Johnson gave practical examples gleaned from her 40 years of teaching.  
The fundamental theory is that traumatic experiences in children under age 2 are stored in the amygdala and referred to as "implicit memories."  Barbara stressed that because these memories are not stored in the thinking brain, they cannot be expunged through talking. She explained, "They are laid down without words and without  context. The child knows something is wrong but doesn't know why. Their efforts to release the stress or find relief, are often interpreted as discipline problems."  Barbara said that such children are experiencing stress and anxiety rather than anger and need "soothing touches and quiet words."
Read the full article here.
OHIO AND REPRODUCTIVE CHOICE:  Are you aware of the extent to which Ohio legislators  have gone to interfere with a woman's right to make her own decisions about reproduction? All women should read and share  this summary prepared by NARAL Pro-Choice Ohio.
SAMPLING OF LAST YEAR'S PROGRAMS:
MAY 1: DIVERSE ENVIRONMENTAL, ECONOMIC AND SOCIAL VALUES                      THAT HEALTHY WATERSHEDS PROVIDE
Heather Elmer, director of the Chagrin River Watershed Partners, explained the function of her agency, which is to preserve and enhance the scenic and environmental quality of the ecosystem of the Chagrin River and its watershed in a manner that assures a sustainable future for people, plants and animals. Read more about CRWP at: crsp.org.
April 3: IMPORTANCE OF THE OHIO STATE BOARD OF EDUCATION

 
Read a summary of Ohio State Board of Education Member Meryl Johnson's wide-ranging informative program given on April 3 here.
FEBRUARY 3: REVIEW OF "Just Like Us" AT THE STEELE MANSION
Afte
r an excellent meal, we had a spirited discussion of Just like Us: The True Story of Four Mexican Girls Coming of Age in America by Helen Thorpe led by Branch President Mary Frances Burns
. Memb
ers expressed empathy especially for the characters who were undocumented and therefore encountered greater obstacles in achieving their considerable ambitions. Many members then enjoyed a tour of the mansion. 
GREAT JOB NORTHEAST AAUW MEMBERS! See the contributions we made to New Directions for living here. 
HOLIDAY PROGRAM AT HISTORY CENTER
We enjoyed our tour of the entire facility, which served as the county home for decades, as well as our lunch there. For details about the history center go to its website at:  lakehistorycenter.org.
NOVEMBER PROGRAM ABOUT SIGNATURE HEALTH
Thanks to Jonathan Lee, President and CEO of Signature Health, for giving us an informative program at the company's new headquarters on Nov. 14 about the many ways the agency is helping people get medical and psychological services.  We also enjoyed a delicious (yes, really!) boxed dinner.
Read about our earlier programs: Profiling Islam, Women in Leadership, The History of Christmas Carols, I am Malala book review, Lakeland Women's Art Tour, Lake Erie Harmful Algal Blooms and the Lake Health Wellness Institute  here .
PUBLIC POLICY UPDATE:  After speaking at the AAUW Ohio Convention, Ohio State Board of Education Member Meryl Johnson of Cleveland will share her thoughts with our branch members on April 3, 2018.  Mark your calendars.. See an article about Meryl posted here.
Announcing the publication of the 2016 AAUW Ohio Voting Record, which tracks the votes of Ohio legislators on issues important to AAUW.  Because the activities of the state legislature often occur under the radar, we encourage citizens to review how their legislators voted on bills impacting Ohio women and children in the past biennium, which gives a clue as to what they will do in the coming biennium. The Voting Record lists and explains the bills we used to grade legislators as well as the system we used and shows how legislators voted on them in chart form. We hope our Voting Record will inform your vote.  The Senators who serve Lake County include: John Eklund in District 18 and Kenny Yuko in District 25. You can find their biographies online here.  Representatives who serve Lake County include:  John Rogers in District 60, and Ron Young in District 61.  You can find their biographies here.
Check out our national 2015 Public Policy Accomplishments under the Mission/Advocacy/AAUW Updates tab.
For more information about AAUW of Ohio go to: www.aauwoh.org                                                         For more information about national AAUW go to:  www.aauw.org